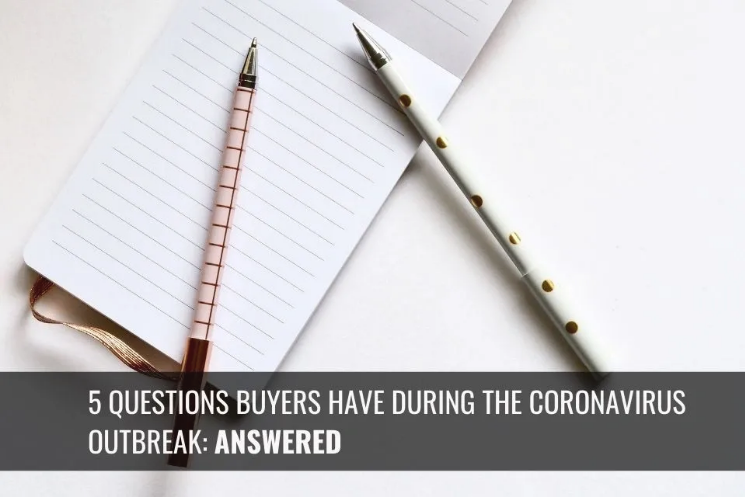 Everyone is being affected in some manner by the outbreak of Covid-19 coronavirus. During this time, buyers will have more questions than normal about the home buying process and their ability to buy a new home. While we can't predict what the next few weeks and months will bring, the more we can educate ourselves, the better we can help buyers navigate the buying process smoothly during the pandemic. Here are a few common buyer questions as they related to the Coronavirus outbreak and real estate answered.



1. Can we still go see home listings in person? 



This will depend on the home, the seller, the agent and any fast-changing governmental policies put in place.  If the seller agrees to an in home showing, most agents require the buyer to fill out a questionnaire confirming that they have not demonstrated COVID-19 symptoms (or been around anyone who has in the last 14 days); they must also confirm that they have not been out of the country in the last 4 days. Safe viewing practices are also implemented, not allowing buyers to touch light switches, open doors etc. I always ask that the seller leave all light switches on and doors open prior to our arrival. As an extra preventative measure, I will always offer to do a Skype or Face Time home tour virtually to help rule out those homes that don't suit the buyer's needs and minimize exposure for all parties.
2. How can I stay safe while visiting homes?



Everyone's health has to be the top priority; this includes the buyers, sellers, and agents. If you are going to see a home in person during this time, carry hand sanitizer and wipes to use before, during and after the tour. Drive separately from your agent meet at the homes. During the tour, refrain from opening doors, drawers, and closets and use disposable gloves during the showing.



3. What happens if I lose my job during the escrow period?



Most real estate contracts also include a contingency that protects the buyer in the event they can't get final loan approval and close the loan. Typically during the process, this contingency is removed after a set time frame, or after receiving the loan approval. Since every aspect of real estate is negotiable, consider asking for the contingency deadline to be extended and in place until the close; talk through this aspect with the seller and their agent in advance to set the right expectation. I always advise my buyer clients to get pre-approved before we go house shopping so we know that we are looking at properties within their price range. In that meeting, be sure to ask your mortgage specialist if they will use your pre-COVID-19 income for mortgage qualification if you lose your job. There are some lenders who are using pre-COVID-19 income if there is a guarantee that you will be returning to your job once everything goes back to normal. Knowing your financial situation and having pre-approval from your lender gives you a much stronger position should you find that perfect home and want to make an offer.
4. Will I still have access to the home during the escrow period?



It's very common for the buyer to have access to the home during the escrow period; home inspections, appraisals and measuring spaces are all common reasons to visit the home during escrow. Consider grouping these activities into one appointment whenever possible.



5. Will I get a better deal if I wait to buy a new home?



We all know there's no crystal ball, but with everything that's going on, some sellers are very motivated to sell.  There are also fewer homes on the market right now, so we are seeing many listings go into multiple offers because of the low inventory. There are historically low-interest rates on home loans, which many buyers are taking advantage of. There is no way to predict the future, so if the right home comes along, it makes sense to act.

If you have any questions about what's happening in the Central Okanagan real estate market, you can contact me here any time.
Stay safe and healthy everyone,Nikki xo